Croct vs VWO: choosing your best AB testing software alternative
The sunset of Google Optimize in September 2023 is still a concern for marketers that relied on the platform. As a result, most are looking for free AB testing alternatives to fill this gap. But how can you choose the most efficient platform for your business amidst this sea of options?
VWO is gaining increased attention for its unique features and powerful AB testing tools. However, the learning curve may be too dense if you require frequent, advanced optimization options. To help you choose your best alternative, we have prepared this comparative analysis of VWO and Croct.
High-performance

website personalization
Benefit from Croct's low latency and maximize your website performance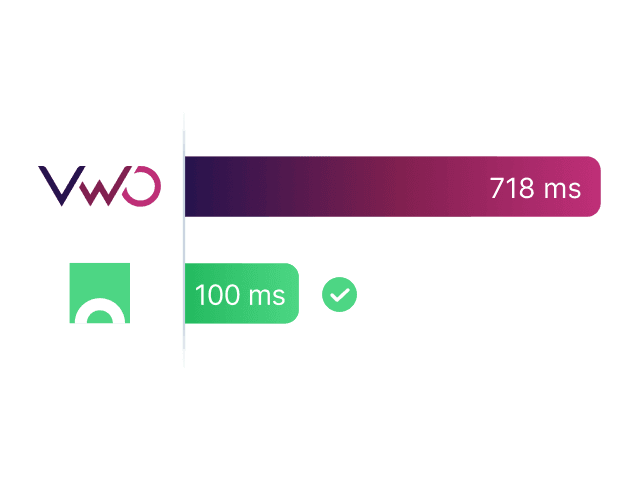 Croct is specifically designed to cater to AB testing and website personalization matters, offering simultaneous, low-code testing capabilities and intuitive features. And the best part: it's easy to learn, implement, and run continuous website optimization experiments.
Your first visit to VWO's homepage will give you an overview of their expertise and mission: helping you convert more and optimize your website. They offer intuitive editors to help you run AB test experiments and personalize your website in a drag-and-drop system.
In contrast, accessing Croct's homepage for the first time shows you that the platform is a headless CMS that integrates AB testing with analytics, segmentation, and dynamic content. It offers an advanced personalization engine to help you find the most converting page version for your users at an affordable price.
Both platforms focus on experimentation with website personalization to convert users. However, some points that can be considered advantages in specific use cases could be taken as limitations in others. So we'll give you an overview of each software's specific features and then dive into the main ones.
We hope it helps you decide on the platform that best aligns with your CRO objectives.
This table summarizes the most important differences between both platforms, which we'll delve into later:
| | CROCT | VWO |
| --- | --- | --- |
| Scope | AB testing and website personalization with CMS | Focused on AB testing with personalization as an add-on |
| Testing type | AB testing | AB testing, multivariate testing, split URL testing |
| CMS | Yes | No |
| Visual editor | No | Yes |
| Multiple languages for content | Yes | No |
| Average latency | Up to 100ms | 718ms |
| Server-side testing | Yes | Yes |
| Scheduled experimentations | Yes | Yes |
| Approach | Bayesian | Bayesian with frequentist elements |
| SRM mismatch check | No | No |
| Multiple-page testing | Yes | Yes |
| Testing segmentation | Yes | Yes |
| Cross-domain testing | Yes | Yes |
| Cross-device testing | Yes | Yes |
| Mobile app testing | No | Yes |
| Personalization | Free personalization options with headless CMS | Paid personalization options with web editor |
| Free plan | Yes, web personalization included | Yes, web personalization not included |
| Pricing | Starts at $300, charged in USD or BRL | Starts at $160, charged in USD |
| Knowledge base | Yes | Yes |
| AI-Based Text Recommendations | No | Yes |
| Support language | English and Portuguese | English |
| Team members | Unlimited | Unlimited |
| Security | CORS and authenticated token | Single sign-on (SSO) and two-factor authentication (2FA) |
| Custom domain | Yes | Yes |
| Development environment | Yes | Yes |
| Data export | Yes | Yes, only for AB test data |
| Integrations | Yes | Yes |
| Add-ons | Yes | Yes |
Although Croct and VWO have similar scopes, these platforms count on different features for specific use cases.
Check the topics below for a complete overview and comparison of these tools and how they behave on your website.
VWO's core feature is AB testing. That means they offer a variety of tools to help you with that purpose. All other functionalities are charged as add-ons. Croct, on the other hand, focuses on experimentation. We enable you to run segmented and non-segmented AB tests and provide advanced personalization possibilities. This is included in our free and starter plans.
To pose an alternative for Google Optimize's sunset, many AB testing tools created free plans for new users, VWO included. Their free plan supports up to 50k monthly tracked users (MTU) with limited features. If you need more robust options, such as website personalization, location targeting, and onboarding, you will have to upgrade your plan to the enterprise option.
Croct offers a free account with up to 5k monthly active users (MAU) and personalization features for all users. Audience segmentation and AB testing are included in all of our plans. Moreover, our pricing doesn't escalate heavily and is charged in both dollars and Brazilian reals, which is an excellent option for latin american countries. We ensure you will be able to analyze all data and personalize your website after onboarding, which we cover in all plans.
Visual editors allow you to change page layouts, copy, and images without coding. These tools are typically available in traditional CMSs and simple AB testing platforms.
You can use VWO's visual editor to adjust your page, while Croct offers a headless CMS. Personalizing and testing style attributes with Croct is nevertheless possible: we enable you to use dynamic content, so you can use it to test alternative layouts simultaneously.
Visual editors help marketers streamline workflows and make their optimization sprints more agile. However, headless CMSs emerged later in the martech industry to overcome the limitations that platforms with visual editors tend to present.
There is no point in scaling experimentation if you need to implement the winner variant when developers can't handle an already existing large amount of to-dos in their backlogs. When an experiment's variant brings good results to a small portion of the audience, it should be implemented for the rest of the users right away. Otherwise, seasonalities can cause different effects on conversion rates after some weeks.
Many platforms that rely on visual editors provide implementation options that work as a cloak that masks original content with experiments' variations. This ends up occasionally causing content to flicker or even crash the website. Marketing teams' autonomy shouldn't hurt your performance. When you don't have a solution that allows marketers and devs to escalate their efforts collaboratively, it shouldn't matter how easy it is to change content independently.
Check our post about CMSs comparison. It describes how headless CMSs ensure security and flexibility at the same time for developers, designers, and marketing professionals.
Segmenting your audience is the key to ensuring your AB tests unlock the best variant for each user. While segmentation may depend on different criteria, it will help you perform focused AB tests and get the necessary insights to communicate effectively.
Both Croct and VWO allow you to segment users for AB tests based on:
UTM parameters (source, medium, campaign, content, and term)
Complete device, browser, and operational system data
Complete session and user history data
Location (city, state, country)
Complete e-commerce data, including cart information (products, coupons, etc).
Besides these data, VWO enables using:
Variables from the data layer
Javascript variables
First-party cookies
Customized Javascript functions.
Unlike VWO, Croct allows you to import data into the user profile. It goes beyond specific pages (data layer and Javascript variables) or sessions (first-party cookies). With our SDK, it becomes possible to enrich sessions and user profiles to segment visitors based on business-specific data at any time.
You can check here the complete table of Croct's segmentation variables.
VWO integrated a personalized text generator AI into their enterprise plan. Although in beta, you can create copies based on your segments and audiences. It's a great feature to build your experiments in English and create engaging content.
Although there are many text AI generators and tools, there is high value in having one integrated into your AB testing platform. Our roadmap includes an AI generator that works in multiple languages.
Website personalization is a marketing strategy that tailors website content to match users' interests. Croct takes this task very seriously, so all our plans include AB tests with website personalization.
VWO also allows you to personalize website content with an easy-to-use editor. However, it's only available in their most robust plans or as an add-on.
If you wish to personalize your content based on the user's location, for example, Croct allows you to segment your experiences by geolocation.
Many marketers still get lost while evaluating whether they should use Bayesian or frequentist analysis for their experiments.
The Bayesian approach lets you perform AB tests without a predefined duration. Moreover, you can measure the probability of being the best (PBB) of a variant and test hypotheses.
Both Croct and VWO use the Bayesian approach, but VWO adds some frequentist elements, which means you should have your test running for a minimal amount of time to ensure the results are statistically significant. Also, you can't edit an ongoing experiment, which isn't ideal if you want to fix a typo or add some minimal changes along the way.
In AB tests, we usually divide users into groups. Each one visualizes a different version of the same content to compare the performance of each variant. The Sample Ratio Mismatch (SRM) occurs when the allocation of participants to groups is incorrect. SRM can give distorted results and invalidate your experiments since you will not count on reliable data.
VWO and Croct do not have an SRM check feature integrated into the AB testing tool. However, you can check your test SRM using a browser extension and analyzing the root cause, as explained here.
The sunset of Google Optimize and the coming of Google Analytics 4 brought various concerns about integration and data analysis. The early access to Google Analytics 4 integration was conceded to a few marketing tools, VWO included. However, Google announced that they will soon release the public API, which means most tools will surely integrate it, Croct included.
Although integration with GA4 is still unavailable at Croct, we ensure you can export data to your own data pool and integrate with your preferred analytics platform.
Website latency concerns most marketers and CRO teams these days.
Page loading speed is one of the main criteria Google uses to score a domain's Core Web Vitals health. That's because it dictates if a user will navigate through your website or abandon it.
While navigating your website, users expect the loading process to be quick. Otherwise, they may experience page flickering, and your content will seem unstable. Flickering means your website "flashes" or blinks due to heavy loading.
Both VWO and Croct use CORS to authorize the integration between the platform and your website. This happens automatically when you create a production application. Then, the AB testing platform can retrieve and send data to your website.
As any martech should do, we're both deeply concerned about website safety. Croct will never store sensitive data from users, and IP addresses are discarded as soon as geolocation is obtained. Check out our privacy policy to learn more.
When deciding between VWO and Croct, there are several factors to consider.
First and foremost, you should evaluate your optimization goals. If you're looking for a traditional testing approach and want to compare different variations of your website, VWO may be the better choice. However, if you're seeking advanced personalization capabilities and want to deliver highly relevant experiences to individual visitors, Croct is the most suitable option.
Another consideration is your technical expertise and resources. VWO is easier to operate due to its web editor, but it comes with the heavy limitations we discussed earlier in this article.
Lastly, budget considerations play a significant role in the decision-making process. Evaluate your budget and understand the pricing models of both VWO and Croct to determine which aligns better with your financial resources.
If you are looking for a good alternative to Google Optimize, Croct is a great option because you'll only pay for what you'll use, and we can charge you in Brazilian reals if you need to escape the dollar inflation. VWO has many features that escalate for different plans and add-on prices that can be very expensive. Consider your current needs and your expected growth and scalability requirements.
In conclusion, both VWO and Croct offer powerful conversion optimization capabilities, but each has unique advantages that make them suitable for different use cases.
If you want to explore the power of AB tests with personalization, create your free account and test Croct today.