Hubspot CMS Hub vs. Croct: which are the differences between these platforms?
We have recently published in our blog a comparison between our software - which combines CMS, analytics, AB test, and personalization - and Google Optimize, Google's AB testing platform.
As our sales team gets questions about how Croct compares to Hubspot CMS, we created this new article to distinguish the main differences and similarities between both platforms and state our positioning regarding each one.
The table below summarizes the differences between Croct and Hubspot CMS Hub. Next, we bring you more details on some of the main points.
| | Croct | Hubspot CMS Hub |
| --- | --- | --- |
| CMS Type | Headless CMS | Web CMS |
| Website Hosting | ❌ | ✔️ |
| Multi-language content creation | ✔️ | ✔️ |
| Visual editor | ❌ | ✔️ |
| Number of experiences | Not limited | Up to 1 per page |
| Dynamic content | Advanced | Basic and limited to 1 category |
| Variables | More than 100 variables | ~15 variables |
| Context Enrichment | ✔️ | ✔️ |
| Segmentation | Advanced (natural language) | Basic (with filters) and limited to 1 category |
| Experiment analysis | Bayesian | None |
| Reports | Per audience, experiment and variant | Per audience and variant |
| Data export | ✔️ | ✔️ |
| Experiment type | Content | Content |
| Traffic Allocation | ✔️ | ✔️ |
| Number of variants | Up to 5 | Up to 5 for Adaptive Testing and 2 for common AB testing |
| ML testing recommendation | Soon | ✔️ |
| Identity Resolution | ✔️ | For leads only |
| APIs | ✔️ | ✔️ |
| Integration with CRM | ❌ | ✔️ |
Before we begin this discussion, it's important to clarify that we are comparing our platform with CMS Hub's Professional and Enterprise plans, which cost US$ 400 and US$ 1,200 a month, respectively. We chose to leave CMS Hub's Starter plan out of the comparison since it has several limitations and doesn't carry many of the features included in our software.
We must also say that we are comparing very distinct platforms even if many features look alike. While our product provides a headless CMS for personalization and CRO, Hubspot's platform provides a web CMS. At Hubspot's website there are comparisons between CMS Hub and tools such as Instapage and Unbounce rather than headless CMSs, which are more robust and advanced. Ultimately headless CMSs operate under a different purpose, which we will explain next.
A CMS where the content repository is detached from the presentation layer (the HTML structure and the CSS styles) is known as a headless CMS. Content stored in a headless CMS is delivered via APIs to ensure that it is shown consistently across devices.
A headless CMS option can often circumvent some of the annoyances caused by non-headless CMS platforms that hold content in one location or distribute it to only one specific marketing channel. It gives you the choice of providing content across many digital platforms, displaying them in different layouts since the structure and style of components stay in the source code.
Unlike Croct, CMS Hub isn't headless. This means that people that operate the platform can freely and unrestrictedly define elements' form and style through a visual editor. In some cases, it is nice to have this kind of freedom, however, if you need to follow a well-defined design system, it may not be the best option . Besides, since it serves a complete HTML source code, developers can't be sure that it is flexible and bug-free on any device (mobile and desktop, for instance.
Preview
Instead of a visual editor, Croct offers preview tools that allow you to visualize content to validate it before experiences are up and running.
CMS Hub carries a creation and hosting system that allows users to create whole pages inside Hubspot's domain (example.hubspot.com) or inside their own domains. Croct, on the other hand, doesn't offer a managed system for website creation and hosting.
Both Croct and CMS Hub enable dynamic content, or Smart Content, which is the term adopted by Hubspot. Having dynamic content on your website means it can be natively personalized according to segmentation rules.
You'll need a developer on both platforms to work on the initial implementation, which is the only requirement to make the attributes dynamic. From then on, marketing professionals with little or no programming skills can easily make changes at any time.
The difference between the two platforms is that CMS Hub doesn't allow compound segmentation rules. If you segment your audience based on location, for example, you will not be able to simultaneously segment by device type.
Besides, creating dynamic content with CMS Hub is restricted to specific parts of your site: you can't personalize some forms and thank you pages. It is also limited to one personalized experience per page.
There are no segmentation restrictions regarding compound rules or content type at Croct. The number of personalized experiences per page is not limited either.
Your source for

CRO

and

personalization
Learn practical tactics our customers use to grow their businesses by 20% or more.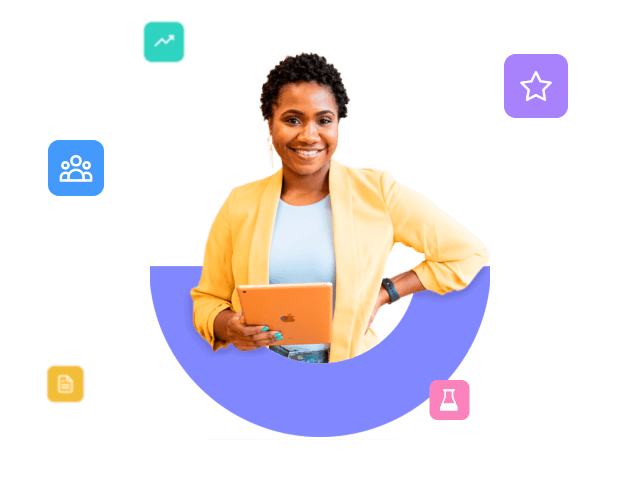 Segmenting your traffic to improve results is essential in optimization processes. Each strategy demands a given kind of segmentation, and all the required data isn't always available on the platform. This is why we split that analysis into two sections: segmentation with data available within the platform and segmentation based on external data.
CMS Hub provides the following parameters for audience definition:
CRM contact list
Type of device
UTM parameters (source, medium, campaign, content, term)
User life-cycle stage (funnel stage)
Reference page
Country and language
UTM parameter (source, medium, campaign, content, term).
Check the complete list with examples here.
With CMS Hub, it is possible to create browsing experiences closer to the current user's session context. This kind of segmentation may be enough in simpler test cases. However, the more you know your audience, the greater the number of hypotheses on what best resonates with users.
This is why Croct considers the whole user's journey at website optimizations. With Croct's user profile and browsing data enrichment, you can define the audience based on the following parameters:
Page URL
UTM parameters (source, medium, campaign, content, term)
Complete device, browser, and operating system data
Session and user history data
Location (city, state, country)
E-commerce data such as complete cart information (products, coupons, etc.).
Here you will find the complete list of Croct's segmentation variables.
When using CMS Hub, the only way to enrich users' profiles is through APIs HTTP (much used in forms) and event tracking. Processed data is linked to contacts stored in the marketing module (and sometimes shared with the CRM module) to be used in content segmentation and personalization. However, it's important to highlight that this is only possible when dealing with users who have registered on the website or provided contact information (in some form), not with anonymous users.
With Croct, on the other hand, you can import data from website events to enrich both anonymous or identified users' profiles. Thus, you can use it not only right after the import but also later on. This means that a piece of information can be collected in a given session and used to personalize future sessions even days later.
Companies that sell annual or monthly subscription plans could use information from a viewed or purchased plan to personalize the content users see on the website. Another common practice is using information users provide in forms, such as texts and values, to segment a test or personalize content dynamically, whether the user has or has not provided id or contact information yet.
CMS Hub doesn't use statistical analysis methods for experiments and simply shows each variant's volume and raw conversion data. Croct uses the Bayesian approach, the standard in the market of companies whose core product is AB testing. Among several reasons why companies consider this to be the most robust and adequate method for experiment analysis, we could highlight the following:
The possibility of declaring a winner variant before the estimated conclusion date
Metrics are more detailed than in other methods
Results are more accurate than in other methods
Interpreting results is simpler than in other methods.
For more about the Bayesian approach check the article in our blog.
With so many segmentation possibilities, the platform dashboard must provide high granularity reports of the personalized experiences. Croct dashboards enable real-time tracking of each experience, including information on:
Audience size
Number of users and sessions in a given period
Share of website users reached
Website personalized areas
Products sold
Conversion rate (per device).
The information above supports a complete mapping of the conversion funnel with filters that detail the funnel by, for instance, device and date.
CMS Hub doesn't support automatically viewing data at the experience level, but only from variants and audiences. This limits analyses when it comes to advanced segmentation. Therefore, creating customized reports is still necessary, which makes the access to that information costlier and more complicated.
Croct supports testing up to five different variants simultaneously to validate which version of a given content will generate the higher conversion rate. CMS Hub only allows two variants in regular AB tests and five variants in Adaptive Testing, a machine learning algorithm for traffic distribution recommendation based on the best variant available within the Enterprise plan.
We'll discuss this feature further.
CMS Hub offers the Adaptive Testing feature to users with the Enterprise plan. Adaptive Testing is a machine learning model that identifies which of the tested variants performs best in a given period while automatically adjusting traffic among them. As tests begin, the number of users who visualize each content variant is the same. That amount is adjusted over time as the model selects the variants that drive the highest conversion rates. At the end of the tests, all users see the same content.
Croct is currently working on a machine learning model for automatic traffic distribution similar to Adaptive Testing.
Identifying someone connected to several devices as a unique user is table stakes for a thorough user journey analysis. As the user journey gets increasingly complex, this functionality becomes extremely important for offering experiences that link into each user's context.
CMS Hub offers an identity resolution system that supports personalizations on different devices. However, it is only available after the user registers as a lead or client in the contact base.
This is a drawback if you wish to increase conversion rate at the acquisition funnel stage. Therefore, Croct's identity resolution system allows you to identify anonymous users, leads, and customers.
To know more about our identity resolution system, check our blog post on this matter.
Both Croct and CMS Hub carry APIs for content, events, sessions, and users. Nevertheless, Croct offers an evaluation API that checks users' information such as interests, location, and browsing behavior in real-time.
Since Hubspot delivers several other marketing services that don't belong to Croct's core, CMS Hub bears many APIs focussed on services such as email marketing, forms, SMS, among others.
At Croct, all settings can be made through the user graphic interface.
You may find more about Hubspot's APIs on this link.
As mentioned above, Hubspot delivers other marketing services besides CMS Hub. Therefore, it has native integrations with Hubspot's CRM and other CRM and email tools. Croct doesn't provide native CRM integrations, but as a headless and API-first CMS, we provide integration possibilities for basically any API or SDK application.
Both Croct and CMS Hub are used to create, personalize and test websites' content. The fact that one of them is headless and API first and the other is template-based tells much about what use cases each would suit. Looking at particular characteristics of each platform as advantages or disadvantages should rest on the purpose of the operation as well as on the marketing, growth, and CRO teams' maturity.
We hope this post has helped guide you through the process of choosing which tool best suits your needs. But if you want to go further and discover how a personalization platform can help boost your business results, create your free account and explore Croct!