Planning for personalization: how to craft a dynamic content strategy
Planning for personalization is the first step in crafting a killer dynamic content strategy. Still, some of our clients don't know where to start and what to prioritize. That's why we receive a lot of questions regarding how they can get started.
We made a step-by-step guide on how to create a good personalization plan with a list of personalization ideas, many of them with success proven by our customers. But let's start by discussing why personalization is now table stakes for good marketing results. After all, we should always step backward and ask ourselves the right questions before jumping into new tactics.
The upsurge in digital interactions has raised the personalization bar to a great level in the last few years. A McKinsey study shows that three-quarters of consumers swapped to a new product, store, or buying method during the pandemic.
More than 70% of consumers expect personalized interactions from companies across various industries, and around 76% of consumers get frustrated when their online experiences aren't personalized to meet their particular needs.
The most obvious benefits of website personalizations are improved conversion rates. When you know who your visitors are and what they want, you can ensure they visualize the right content at the right time. You can also provide them with relevant offers to increase their engagement with your brand and boost sales. According to Econsultancy, 93% of companies had a rise in conversion rates after they curated personalization in search engine marketing.
How Sem Parar increased the conversion rate

by +13%
Understand how they used personalization to optimize the content returning users see on the home page.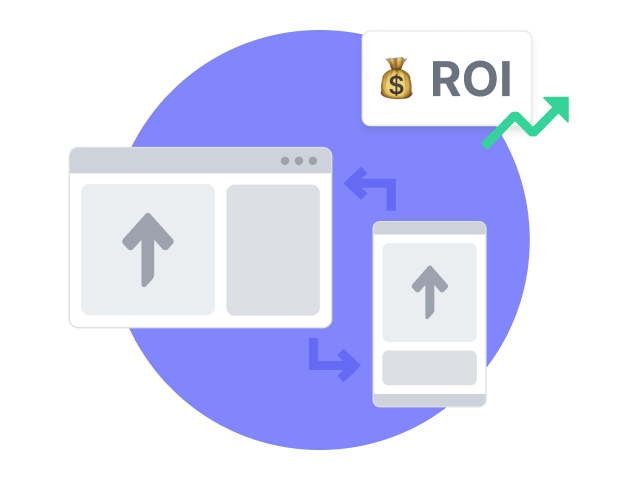 Creating a good browsing experience on your website depends highly on looking at what users want and need. You may instinctively perceive what parts of your site will impact them the most and prioritize those in the personalization roadmap. But looking at your traffic is the best way to know what pages actually play an important role in the user's journey. You might be missing conversion opportunities by not considering that.
Although the homepage is usually a good choice to get started with personalization, it is not always the most important page. In some cases, marketing campaigns direct users to other pages, causing homepage personalized experiences to have less traffic.
One of our e-commerce clients had first chosen to start by testing a personalized version of the home banner. After 14 days of running the test, the personalized experience had impacted less than 25% of the user sessions. The CRO team analyzed the traffic and found that most marketing campaigns were linked to product pages.
That's why you should use data to check which pages get the most traffic and how much time users spend on them. You'll also want to look at user feedback from surveys and reviews to get an idea of what kind of content they're looking for and what makes them stay on your site longer.
While it varies from company to company, we have made a list of website pages that usually bring the most traffic. Choosing among them carefully could do wonders with some personalization tactics.
The landing page is the most common choice because it is where users land after clicking on most ads. In addition, a good landing page design avoids distractions and focuses on one conversion action, increasing the conversion potential.
Creating segmented rules for personalizing landing pages enables you to have specific content for each ad or ad group - all in the same URL. We've recently posted an article on how to create multiple landing pages faster. If you're struggling to scale your landing pages, you should definitely check it out.
Category, product, and search pages usually have the most significant share of visits on e-commerces, so optimizing them for conversions is essential. The same can be said about other segments, such as SaaS, that have several products or features for different customer profiles. Personalization can help you achieve that goal by making sure that each visitor sees only products that are relevant to them.
You can use these pages to show users product recommendations based on blog posts they have read, search terms they have used, and products they have purchased. This will optimize their journey while searching for your products or solutions
Your pricing page is where prospects convert. When they are at this stage of the journey, you have a chance to show them the plan that suits exactly what they need. We recommend you personalize your pricing and plans pages by testing different layouts and placing the benefits of each plan in different orders for each audience.
The home page is the most important page on your website. It is where many visitors will land on their first visit, and it is also the place where they can find all of the information they need. It helps visitors to make a decision about whether or not they want to become a customer.
Checkout pages are where the biggest conversion drop in the funnel happens. That's why personalization is important to ensure your checkout process is as frictionless as possible.
Knowing what to prioritize means not only analyzing which pages bring the most traffic to your site but also which elements in the pages users interact with the most. We recommend you use heat maps and event tracking to dig deep into this.
These are some of the components that usually get many interactions:
Top bar

It is a powerful personalization component since it appears on almost all pages. It usually offers benefits such as free shipping or first-purchase coupons.

Banners and first folds

Banners are on top of pages and draw attention. First folds are the very first lines that come under the banner, so both of them are impactful.

CTA buttons

This is usually the exact element in which the conversion happens. And it can also impact traffic on other pages.

Forms

Users usually fill out forms just before they hit the CTA button, so this step should be as frictionless as possible.

Product descriptions

You can use them to test different messaging, positioning, and benefits.
Even when you get the personalization elements right, you can mess with the results by choosing audiences that don't have enough traffic to analyze. When you don't have at least 25 conversions and 1,000 visitors in each variant from your test, there isn't enough statistical relevance to make good decisions.
Some of our clients had tests that reached the criteria for stability in one or two weeks. On the other hand, we also had tests running for months before we could declare a winning variant.
Therefore, just as we analyze the traffic before choosing which pages and slots to personalize, we must do the same with the audience.
You can ask yourself questions like:
What are my main personas?
What do they have in common?
Are they in the same location?
Do they usually buy or consume the same products?
Do these users buy on their first visit, or does it take them more visits to make a decision?
Asking yourself these questions will help you understand the leading segments and their preferences and develop hypotheses on how to improve their journey through personalization.
Here's an e-commerce example of the insights you can expect to have from asking the right questions about your audience:
Audience: we have a great number of returning users who abandoned the shopping cart. Most of them live in the southern region, where product X sells more than other products.

Hypothesis: cart abandonment could result from the shipping cost to this location.

Possible AB test: offer the default variant versus a variant with free shipping benefit on purchasing product X or reaching a minimum purchase amount.
We can do the same exercise thinking of a SaaS B2B example:
Audience: most customers start with product X and consume a lot of rich material. However, the cycle from discovery to closing a sale is too long, increasing this customers' CAC.

Hypothesis: the large amount of features and products that we offer on our homepage can make it difficult to understand how our software solves their problem.

Possible AB test: showing the default variant versus a personalized page according to the content consumed on the blog, highlighting the product, plan, or feature that is relevant to this audience.
After analyzing your traffic, you can identify opportunities for generating impact. Now, it's time to validate your hypotheses.
Your assumptions on what personalizations would bring the best results might not always be right, so you can AB test different variations of your website's content in small portions of your traffic. When the experiment ends, you can implement the winning variant for the rest of the users.
If you have never performed AB tests with personalization, we suggest you read our blog post on how to run AB tests with personalization. It should help you get started.
Creating an optimized user journey requires a lot of planning. It wouldn't be any different with personalization. Getting started from scratch can be tricky when you don't know what to prioritize, but once you draw your own process for traffic mapping and event tracking, it gets more intuitive as time goes by.
We hope we've helped you, and if you want to put what you've planned into practice, create your free account and explore our platform. We look forward to helping you achieve your goals.