The 7 most frequent personalization mistakes and how to avoid them
The pandemic has strongly increased the need for new approaches to digital marketing and growth. The online demand for products and services had an unparalleled growth, and understanding each user's peculiarities became essential for knowing what and how they wish to buy. Research by VB Insight shows that 87% of companies improve results when personalizing content. According to Epsilon, 80% of consumers claim to be more likely to buy from companies that offer personalized experiences.
It's like going to that same store where you always shop and being serviced by the usual salesperson. They know what you like, how you prefer to be treated and what discounts you expect. If the experience is satisfying, you will likely return and shop again. The strategy should be the same for websites. Technology keeps evolving, and as many personalization platforms are available for most industries and segments, the issue now is mostly about what not to do. How can you respectfully personalize experiences not to affect user privacy? How can you be sure to be using the best practices?
Our tolerance as consumers to personalization mistakes has shortened to such an extent that we'd rather have generic interactions than being treated incorrectly. Is your company making any of the following personalization mistakes?
Personalization goes beyond using the user's name. Messages that start with "Hello, John Doe" are so common that they don't mean personalization anymore. In fact, we all know that inserting a name is just generic automation that companies use in 100% of messages. Being treated by their names doesn't make users feel they are more than a number in the database.
That is why you should invest some time in finding out about your visitors' specific characteristics. Sometimes audience segmentation based on anonymous data allows delivering relevant content to each segment and can bring better results than using names and personal information in messages. Keep in mind that the objective of personalization is to create more adequate experiences for each user and that it doesn't necessarily mean being more personal.
Increase ROI

and

reduce CAC

with personalization
Sem Parar increased the conversion rate by +13% using a simple three-step process.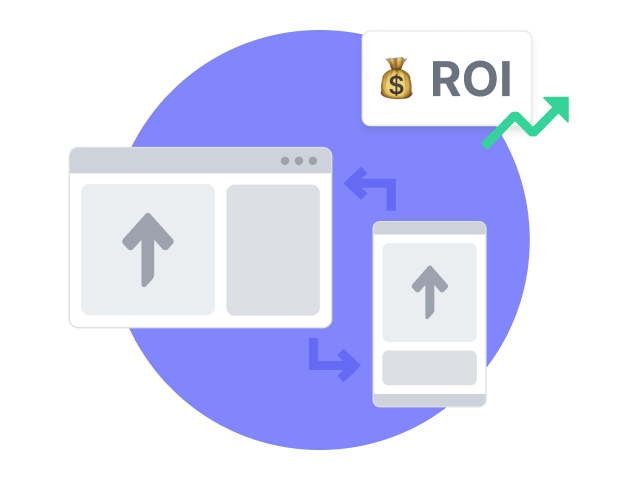 Segmentation mistakes put users in the wrong clusters and may generate bad experiences.
Pinterest, for instance, went through a touchy personalization mistake. They sent friendly best wishes wedding messages to people who weren't even dating someone. The website claims to have shown those messages to people who had liked wedding images and not only to users who were actually getting married. Many took it lightly and tweeted making fun of it, but such mistakes can negatively affect your business.
Offering winter clothing to users who live in tropical regions, sending satisfaction surveys to users that haven't yet converted, showing products that are of no interest to the user… All of that is related to a weak data analysis. To avoid such glitches, it's essential to know when and how to use certain information from events or registration data. In case there are still doubts regarding content's effectiveness, the tip is to perform AB tests with a smaller part of your website traffic to validate that personalization makes real sense to given audiences.
A good personalization strategy adds value to the user's experience without pushing privacy boundaries or causing annoyance. You should avoid content that uses sensitive private data or refers to touchy subjects.
Let's consider the context of a person undergoing medical treatment that causes hair loss. They might look for products to treat this undesirable side effect. However, being confronted by content that reinforces the problem at every interaction wouldn't be pleasant for that user. Sometimes, they simply don't want to be reminded of it all the time.
Another common blunder in content personalization is using personal and sensible data in non-authenticated areas. Using banking data on an opening page before the user logged in would be an extreme example.
Once again, knowing how to use the information correctly is essential for any personalization. Ensuring such limits helps gain users' trust in the brand and long-term engagement.
Personalization establishes a correlation between the user's experience and the business's understanding of their needs and wishes. A company that cannot identify and recognize a client or doesn't have enough information about a user when they come back to the website is inclined to lose a potential customer.
Picture this situation: you are a long-time customer at a sports e-commerce, and all you buy are soccer-related products. It's your sport, after all. Nevertheless, you have recently begun to see pop-ups for a super hokey products campaign. For you, that's irrelevant, right?
Starting a personalization process may not be very simple. Expecting quick results without firstly organizing all required data may damage the user's experience. Begin by adequately categorizing and tagging your products. Your personalization is also at risk when there is not enough supporting content.
Not everyone who lives in Rio de Janeiro likes to go to the beach. Segmentation-based personalization is important, but you may lose valuable opportunities by not seeing users as individuals.
Exploring functionalities provided by AI and using learning algorithms enables fast processing of large amounts of data, finding patterns, and even inferring your visitor's ideal next steps. Therefore, it is possible to approach each customer from the perspective of their own peculiarities. Individualized personalization means adapting recommendations for products, blog articles, and offers, among others.
If this approach is still not an option because of a lack of resources or technical matters, the creative team should be at least very careful while creating copy that exaggeratedly generalizes audience behavior.
Have you ever consumed a given content on a website and still kept receiving recommendations related to that same content? Have you purchased a product and kept seeing recommendations for the same product and discount offers, some of which were not even available when you were shopping for that product? We know how frustrating this can be.
Real-time data processing and constantly keeping data updated are essential to ensure that every personalization is coherent and follows current users' contexts.
Many companies collect a vast amount of data but are not capable of using it at the right time: when the data is processed, the personalization has already reached the user. Besides processing data in real-time, considering the whole user's journey and not only the interactions from one single session is very important to define a personalization strategy.
Multiple device usage is already a global fact that should be considered in every marketing strategy, even those that don't include personalization. Think about the situations in which we use each of our own devices. We tend to be more receptive to larger and deeper content when using the computer during the day. And we are more inclined to choose concise and straightforward content when on mobile at night, on the other hand.
Your personalization strategy should consider both usage preferences for time and device and content synchronization in different devices. Understanding different channel behaviors generate valuable insights to define which different types of content should be delivered in each situation.
Identity Resolution
Tip: Features such as identity resolution systems that allows identifying the same user on different devices may prevent many mistakes.
Personalization is a great ally when it comes to user-centric strategies. However, a careless execution may cause some of the mistakes we pointed out here to damage the whole process.
Cautious data structuring and seeing each user as an individual leads users to feel important, and the connection with your brand to be more human is what brings good results by the end of the day.
Create your free account and explore our platform to find out how it can help you avoid these mistakes and boost your results.