Segment customers from visitors and improve your website performance
Offering the right product to the right consumer is an essential part of an effective marketing strategy for any business. Customers understand that when a website delivers personalized experiences, they enjoy product recommendations and unique offers. And in return, they reward the company with their loyalty.
Yet, marketers must know their website visitors thoroughly to create personalized experiences. No matter what kind of business you do, you will have a diverse mix of people at different stages of the customer journey.
So, to help you deliver effective communication and address their unique needs, you must know the difference between a client and a visitor. While both are important to a company's success, treating them the same way can lead to missed opportunities and a lack of personalization.
Subscription-based and e-commerce businesses rely heavily on repeat customers for sustained growth. But they often struggle with effective communication with their customers and visitors.
Segment

customers from visitors and

improve

your performance
CARE increased the conversion rate by 35% and the ARPU by 97% with this strategy.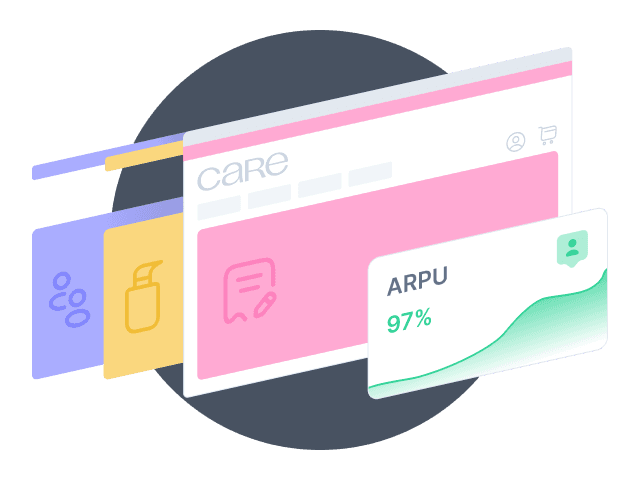 For instance, marketers want to attract new customers with aggressive discounts and promotions. But such offers can create dissatisfaction among current customers because they're not eligible. As a result, it becomes a daunting task for marketers to create tailored offers that resonate with each visitor.
So how can they solve this pain point? That's where segmentation comes in.
In marketing, audience segmentation groups customers or potential customers based on specific characteristics such as behavior, demographics, interests, or needs.
Creating a segment of your audience is finding and grouping a specific set of people with something in common. Segmenting your audience by where they live, who they are, how they interact with your brand, and what they want will give you an accurate picture of their needs. Using this information, you can develop strategies to personalize their experience.
There are lots of different use cases for segmentation. But having a website that delivers personalized experiences comes down to segmenting your customers from visitors, enabling you to market your products and services uniquely.
Understanding the distinction between a client and a visitor is crucial when developing website-targeted campaigns. To engage a group of customers across the board, you need distinctive marketing strategies, not a one-size-fits-all approach. The solution is segmenting customers from visitors and using the information to create personalized marketing offers.
But before you can segment, you must first identify a visitor and a customer. A visitor is someone who shows an interest in a product or service but has yet to make a purchase. In contrast, a customer has already made a purchase and may be more likely to make additional purchases.
Once you have defined these two groups, you can gather data on each one, especially in real-time. This includes purchase history, page visits, and website behavior. With this data, you can start to segment your customers and visitors based on their behaviors and interests. Segmenting communication and offers helps improve customer satisfaction and retention and increases opportunities for cross-selling and upselling.
Once your audience segments are in place, tailor your messaging and offers to the specific groups based on their buying history, preferences, and behaviors. This can help ensure that your customers receive relevant, personalized communications rather than being bombarded with irrelevant or generic messages.
The data you collect tells a story about your website visitors, whether they are a customer or a visitor. As time passes, you learn more about your users through their browsing behavior, frequency of visits, or products they are interested in. With this information, you can create personalized offers targeting these different segments.
Now, let's look at some examples of website-targeted offers you can make for your customers and visitors.
To maximize your ROI, you must get the most value from every visitor in your sales funnel. And what better way than to present them with website-targeted offers that entice them to take action? Here are some examples:
First purchase discount is an effective way to attract visitors and turn them into customers. It's a classic offer with a fixed amount or percentage off the total purchase price for first-time shoppers.
By observing the browsing patterns of your visitors, you can create personalized embedded content, such as a pop-up that shows a discount offer for a first-time purchase. You can set various events that trigger the pop-ups, like when the visitor makes a specific mouse movement or when the user is about to leave the website. Pop-ups are dynamic and can be used across many user journey scenarios and stages.
Another example of a website-targeted campaign for visitors is a free shipping plan. Offering free shipping on a visitor's first purchase significantly encourages them to take the plunge and buy.
Segment visitors who fit the free shipping criteria based on their location and browsing interests. Then, create targeted personalized offers like a 30-day free shipping plan. You can feature this offer on the announcement bar, pop-up, or banner. You can also personalize the landing page to include this offer.
Creating a sense of urgency encourages users to take action. A limited-time discount or a special deal can help you entice visitors to increase their frequency of visits or make a purchase.
Your segmented visitors may have different goals and interests depending on their real-time browsing patterns. That's where personalization comes in. For example, it lets you personalize the messaging on your landing page. This way, you can show them a special bundle offer for a product they previously searched for.
Not all your customers will have the same objectives or behave the same way. So developing identities to segment them ensures you're not just sending everyone the same message.
Marketing campaigns that target existing customers encourage repeat purchases and foster loyalty. Here are some examples of personalized offers for customers:
Suppose you're an e-commerce site that sells a whole range of products. In that case, offering personalized recommendations based on a customer's purchase history or browsing behavior can trigger your customers to make repeat purchases.
You can collect product insights and user sentiments and use this information to build segments for personalized marketing campaigns. You can also offer recommendations based on past purchase behavior by personalizing the search bar results, landing pages, banners, and pop-ups to different purchase intentions.
Offering customers the option to upgrade or add to their existing purchases can greatly increase their order value and provide additional value. It encourages them to keep buying from you.
Target existing customers by offering supplementary or complementary products for up-sells and cross-sells. You can also display seasonal offers on the landing page based on the customer's geographic location or suggest recommendations on the cart page.
Many customer loyalty programs allow businesses to track their customers closely. Customers use their loyalty cards to earn points, discounts, or money, making it easy for you to monitor their buying habits.
With the audience information at hand, you can create more personalized discounts, free products, or access to exclusive content or events. For example, you can discount a customer's next purchase after they spend a certain amount on your website.
Rewarding customers for their continued loyalty encourages them to repeat purchases from your business.
Marketers segment their audiences to gain insights into buyer personas. But even then, missteps can happen in the segmentation process, such as confusing visitor segmentation with basic demographics or failing to bridge the gap between audience segmentation and creating the right marketing strategies.
Using Croct, you can create multiple audiences to segment your website visitors into customers and visitors based on their purchase history, browsing patterns, geographic location, pages visited, and more. This lets you personalize your marketing campaigns and offers to meet your goals.
Customer vs. visitor segmentation, in particular, gives a practical method to reach your users along their journey, deliver more persuasive messages, and nurture them to become loyal customers of your brand.
Interested in segmenting customers from visitors? Create a free Croct account and explore this personalization strategy.