How e-commerce ISZI increased the conversion rate by +39% and the average revenue per user by +88%
ISZI is a Brazilian cosmetics brand that offers knowledge, care, and autonomy in the haircare area for those who seek the best for their hair. They offer high-quality products with no toxic chemicals, don't test on animals, and embrace beauty in all its forms.
After conducting extensive market research with the female public in 2020, the brand invested in offering high technology treatment lines. Today, ISZI already has a high recurrence purchase rate.
In 2020, the beauty brand also had a significant expansion: as physical stores were closed due to the pandemic, people started to adopt a new buying behavior. Consumers started craving access to a mix of unique and distinguished products such as those from ISZI.
As virtual stores grew, marketing campaigns and promotional activities became increasingly relevant. Shipping conditions and terms, for example, directly influence the purchase decision for more than 65% of e-commerce customers in the retail business.
With a large part of its audience located in Rio de Janeiro and São Paulo, ISZI could offer free shipping to these regions. However, free shipping would only be feasible for other locations on purchases over R$ 299 (approximately US$ 60).
Before using Croct, the team used to communicate the free shipping benefit to all users, which on the one hand would boost sales in SP and RJ. On the other hand, it could also cause frustration for users who had also been impacted by the information in other states.
Knowing that the buying process includes a comparison between different suppliers and offers, it became more urgent to correctly inform promotions according to geolocation and cart value.
With Croct, ISZI found that, besides being able to customize the free shipping communication according to the user's location, it could still test different, more contextual copy variations, and opt for the variants with the highest conversion rates.
Thus, even in small details, the user quickly identifies the purchase benefits on the website without breaking expectations during their journey.
Using Croct to combine geolocation personalization plus AB testing, ISZI achieved a +39% increase in conversion rate and an +88% increase in average revenue per user. And with this improvement, they had more opportunities to work on other sales goals, such as increasing the average customer ticket.
Increase your

e-commerce sales
Personalize the user experience in your e-commerce and adapt your offer to each customer's needs and interests.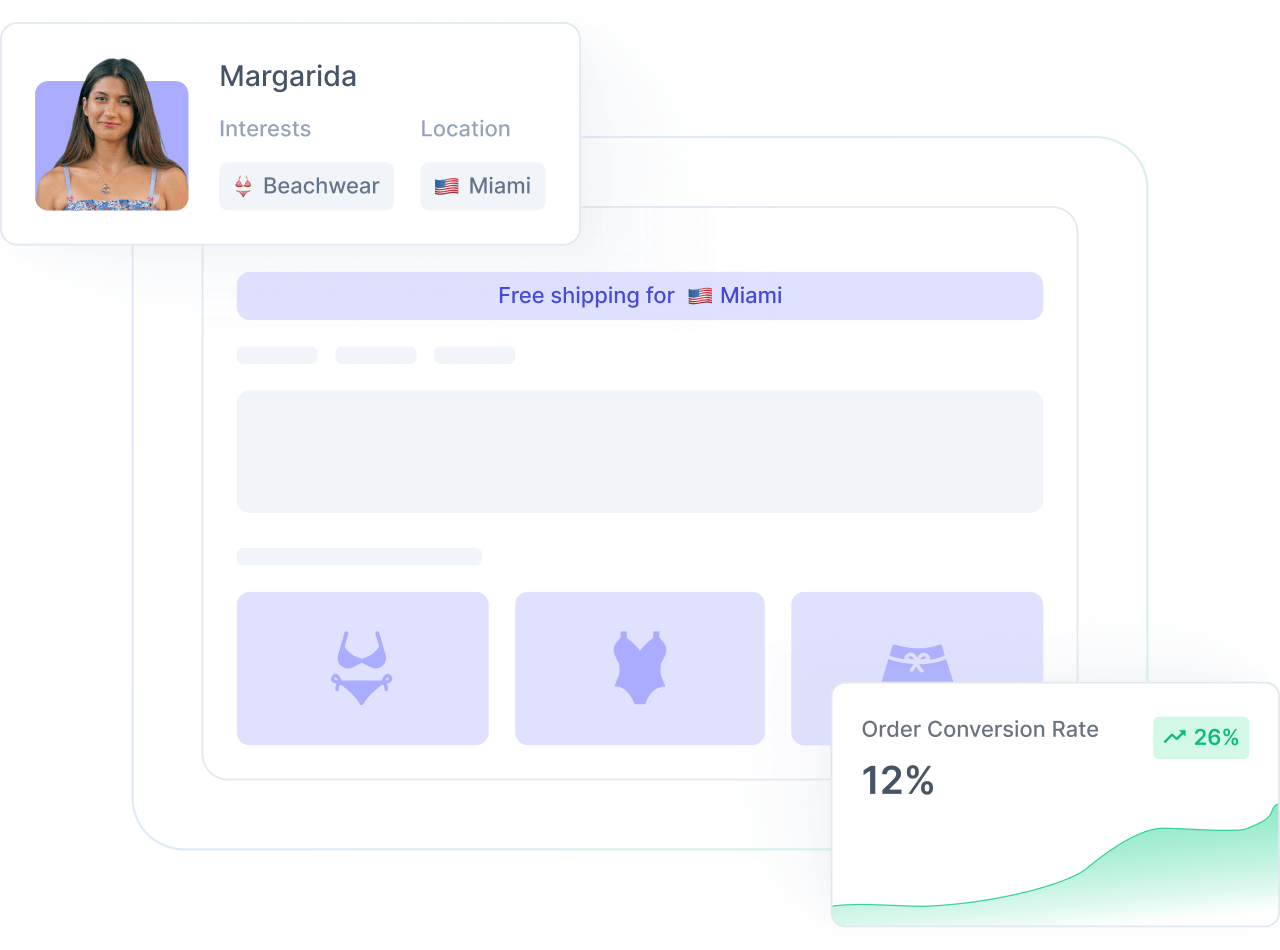 The other challenge was to increase the average ticket of users with a minimum cart value. For that they implemented a type of anchorage nudge on the top-bar, showing the remaining purchase value needed to achieve the free shipping benefit.
From the user's perspective, buying more is spending less money on shipping. As a side effect, when browsing for products to complete the remaining amount and access the benefit, the purchase often becomes higher than the minimum required.
With this strategy, ISZI achieved a significant increase in the average revenue per user, which is a consequence of increasing both the conversion rate and the average ticket.
Average revenue per user
The revenue per user represents the total revenue divided by the number of users. Variations in this metric reflect changes in the companies' ability to generate revenue and provide a granular view on a per-user basis, allowing growth professionals to track revenue sources and growth. From a mathematical point of view, it also describes the product of conversion rate and average ticket.
See the top bar applications and more of the personalization's results below.
Croct's dashboard enables growth professionals to analyze each audience separately, which provides valuable insights for more actions focused on audiences in each region. The results below show the increase in sales conversion rate and the increase in revenue per user on the personalized top-bar variant over the default variant in each region:
| Region | Increase on conversion rate | Increase on revenue per user |
| --- | --- | --- |
| RJ state | +68% | +35% |
| SP state | +6% | +12% |
| Other states | 43% | +56% |
The purchase journey in retail is impacted by many factors, from the plethora of offers to action triggers that can culminate in the actual purchase. Understanding this journey and adapting it to the user's context is not only important but indispensable for achieving significant results.
However, to base any strategic change, it is necessary to have data. This is why it is important to conduct tests to validate the hypotheses raised by the team about what changes on the website content would maximize conversion rates.
Simply changing an offer communication and interpreting the overall impact on your business over time could be misleading. What segment, region, or type of audience did this communication have the most significant effect on? Which area of your site had the greatest impact on optimizing conversions? We can separately analyze the factors that most impact our results by asking these questions and raising more specific hypotheses.
At Croct, we use the Bayesian analysis method for AB tests. It helps our clients access specific data such as the performance of each selected variant, making safe and well-founded decisions, and optimizing their results as ISZI did.
If you wish to delve deeper into this subject, you can take a look at our guide for AB testing analysis or create your free account and explore our platform by yourself.