How Farmamake increased conversion rates and ARPU with personalization
News
By Mariana Bonanomi and Jade Muriel
E-commerce has been growing exponentially in Brazil since 2020. In the first half of 2022 alone, its growth reached 12.5%. Among all industries, beauty is in third place regarding online purchases. Also, according to Forbes, Brazil's beauty and personal care market is the 4th largest in the world, with 23.8% growth in 2021.
Many people still prefer to shop for such products in person. However, the high supply and demand for cosmetics in e-commerce have created a new reality of fierce competition. Therefore, as brands are pushed by so many new players emerging every month, they face the growing challenge of promoting their uniqueness by offering the best user journey.
Farmamake is an e-commerce company whose product mix blends major Brazilian cosmetics brands. Among these brands, they have the product lines of influencers such as Mari Maria and Bruna Tavares — so many ads associate the image of these creators with the products offered.
According to the E-commerce Search Ranking survey conducted by Neogrid in 2022, Mari Maria and Bruna Tavares' products dispute the first positions in search results for beauty products on websites such as Americanas, Amazon, and Drogasil.
Partnerships with those brands are a competitive edge for Farmamake. Therefore, the challenge is to promote offers of their products as efficiently as possible, optimizing the user's search journey for their favorite products and brands.
Increase your

e-commerce sales
Personalize the user experience in your e-commerce and adapt your offer to each customer's needs and interests.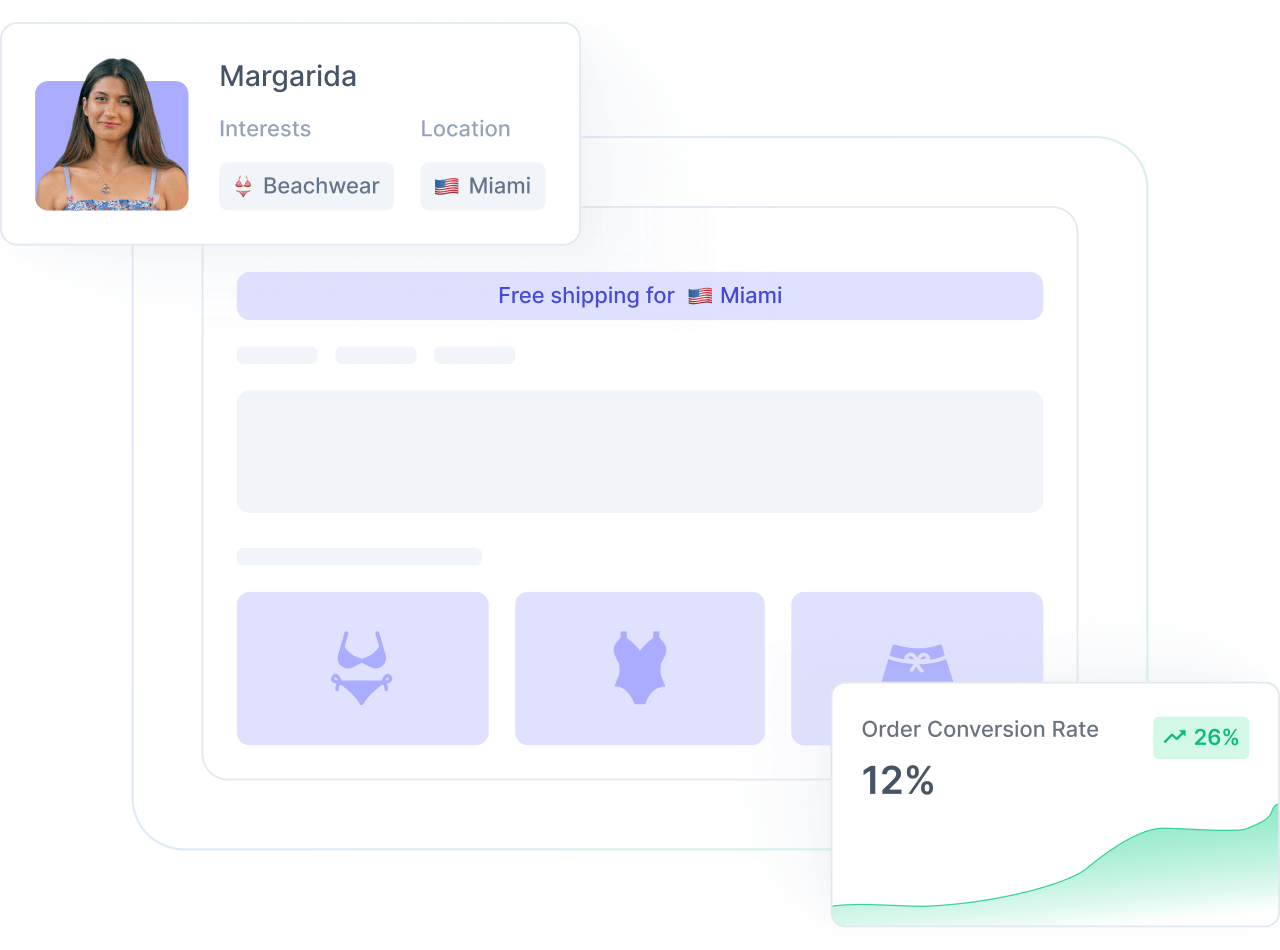 Since many of Farmamake's customers have defined preferences and access their website to buy from specific brands, the company's marketing team personalized the banner carousel on their homepage — highlighting products according to each user's interests. This personalized experience focused on users interested in Bruna Tavares' products — the best-selling brand with the highest average ticket on Farmamake's website.
With personalization, users who interact with Bruna Tavares' products through searches and clicks now immediately view the brand's leading products in the Farmamake website's banner carousel.
While this might seem a simple change, having a website tailored to each user's context and journey reduces friction and distractions in their browsing experience. This helps you create a more seamless process, reducing the number of funnel stages leading up to purchase conversion. The numerical results of such personalized experiences are self-evident.
Croct's platform allows marketing teams to conduct segmented AB tests to validate hypotheses for personalization strategies. Farmamake's team segmented users interested in Bruna Tavares' products and then split them into two groups:
Control group, which viewed the default version of the banner carousel, with products from all brands sold on the website
Other users, who viewed only banners from the influencer's brand.
The personalized version showed an 82% increase in conversion rate and a 59% increase in the average revenue per user (ARPU), a key metric for e-commerce.
Average revenue per user (ARPU)
The average revenue per user is the total revenue of a given experience divided by the number of users it impacts. Variations in this metric represent the company's ability to generate income and provide a granular view at user level — which ensures growth professionals can follow up on revenue streams and growth. From a mathematical point of view, it also describes the product of conversion rate multiplied by the average ticket.
As the beauty industry heats up, mapping the user journey to understand their interests is key to leveraging competitive advantages. Departing from a known preference to simplify the shopping journey by showing the user more products from the brand they like allows you to reap massive benefits, such as increased conversion rates and higher revenue per user.
Personalization can be your greatest ally if you have an e-commerce business and face the challenge of standing out from the competition. If you don't know where to start, create your free account and explore our platform.